Fractal wood burning art is one of the types of wood arts which is categorized in arts that create a design and illustration on the wood.
Wood art has a long history. Wood as one of the oldest materials has always been easily accessible to humans. With the advancement of technology, wooden art has evolved over time and emerges in a new form every day.
In this article, we are going to introduce one of these newfound arts to you. This art is known with some different names such as fractal wood burning art, Lichtenberg wood burning art, and electricity wood art.
Lichtenberg Figures or Fractal Burns
If you have an experience of wood burning art, you know how long it takes to do it. In addition, you must have a design sketch and follow it.
If you prefer randomized patterns and do not want to spend too much time, check for electricity burning.
This method takes much less time, but its output is very different and, of course, unexpected.
You probably have seen effects like roots of the tree on the wood created by burning wood with high voltage electricity.
Electricity actually makes a figure on the wood with a high voltage difference between the two points of the wood. A figure like trees or thunderstorms that are named Lichtenberg figures or fractal burns.

These designs are known as Lichtenberg figures because they were resulted by the experiences and experiments of the German physicist George Christophe Lichtenberg in the 18th century.
Fractal burns are created by applying a high voltage difference (above 2000 V) between two points of a material that is almost insulator like the wood. See does wood conduced electricity.
The reason for this phenomenon is the electric discharge resulting from the high potential difference.
Fractal Wood Burning Process
The fractal wood burning process is a technique of applying high voltage electricity on the wood to crate Lichtenberg designs.
This technique has recently gained a lot of fans. In the Fractal wood burning process, you need to apply a high voltage of about 2000v, usually done through a transformer using two probes.
When this high voltage of electricity is applied on the surface of wood, it starts to burn in the wood from one probe to the other. See video below:
Tools Needed For Fractal Wood Burning Art
In general, you need to have a variety of tools to perform fractal wood burning art steps, and you must also get the knowledge you need to work with high voltage electricity.
All the tools and equipment you need are listed below:
Power Source (Transformer)
Wood
Water
Baking soda or salt
Brush
Power Source
You have to prepare a power source before start burning wood. You can use any type of high voltage power source for this project.
Usually, people build the power source which they use in this project through a voltage booster transformer.
These transformers receive a voltage at the input and convert the desired voltage at the output.
For this purpose, you can use a microwave transformer or neon transformer or an old TV transformer.
We suggest you see fractal wood burning with car battery.
You can also buy it at an affordable price.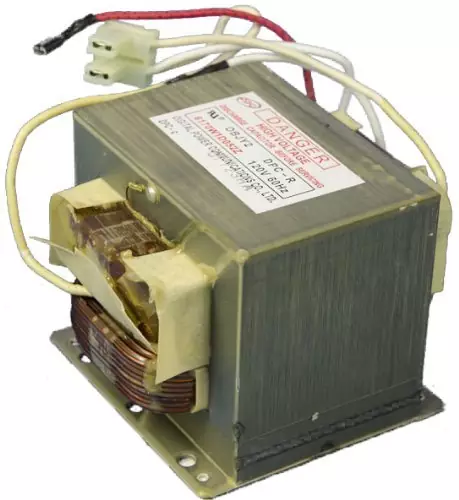 Wood Types
To make the best possible effect on the wood, you should use a suitable wood for fractal wood burning. Burning with electricity is possible on any wood types, but the thickness, texture and various grain create different patterns.
Experiences show that the best types of wood for fractal wood burning art are plywood, olive wood, and walnut wood.
Increasing the Conductivity of The Wood Trough Baking Soda or Salt
In order to allow the electricity to flow through the wood, you should reduce the resistance of wood.
This is done through a thin coating of water because the wet wood is a conductor.
As you know water alone is not a good conductor so you must add either baking soda or salt. 
After adding these materials to the water, apply a coating onto the wood surface.
Note that the solution of water and salt determines the path of the Lichtenberg figures.
Electricity always moves on a path that is less resistant. Do not try to cover the whole surface of the wood. Blank parts of the surface of the wood will make the artwork more beautiful.
Safety Tips In Wood Burning With Electricity
Working with high voltages has several safety tips, be careful.
If you do not have a high voltage insulator (10 kV) on your wires, you should consider all wires like bare copper wire.
Normal insulators burn easily in response to this voltage.
Always use only one hand when working and do not leave the device on.
These seemingly simple tips are very important.
Always remember, at first, your safety, and then your work.
See 10 Woodworking Safety Tips That Any Woodworker Needs To Know!
Final Speech
After burning, you can clean the wood and make it look much better.
To clean the wood, just remove the material from the inside with a brush.
You can create different designs by changing different variables such as solution density, voltage, type of wood, etc.
Do not forget to share your experience in fractal wood burning art with Wooddad users. You can share your experience here in the comments section, or make a video of your artwork and send it to us to be published here.
This article proudly produced by the writers of Wooddad blog, thanks to anyone who have helped us by sending their amazing pictures, videos and texts about fractal wood burning art to be used in this article, including our dearest friend @bavariadesign.